Access to Olympic Park
Travel - Getting Here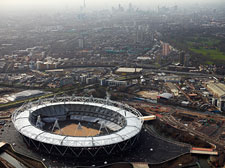 Getting here and access to the Park – it is easy!
The Victoria Gate to the Olympic Park is just a 5 minute walk from us and immediately adjacent to the main stadium. We are also perfectly placed for arrival by train or river with the venues to the north of the Park just 10 minutes away. Unlike the main entrance, we are on the central London side of the Park, have coach and car drop off and can also arrange local parking for clients. Forman's Fish Island will have dedicated staff at each of the entrances to the Olympic Park, relaying information back to our venue, so guests will be advised continuously about queue lengths. Please remember that there will be "airport style" security at the Park entrances which will take time.
Area Map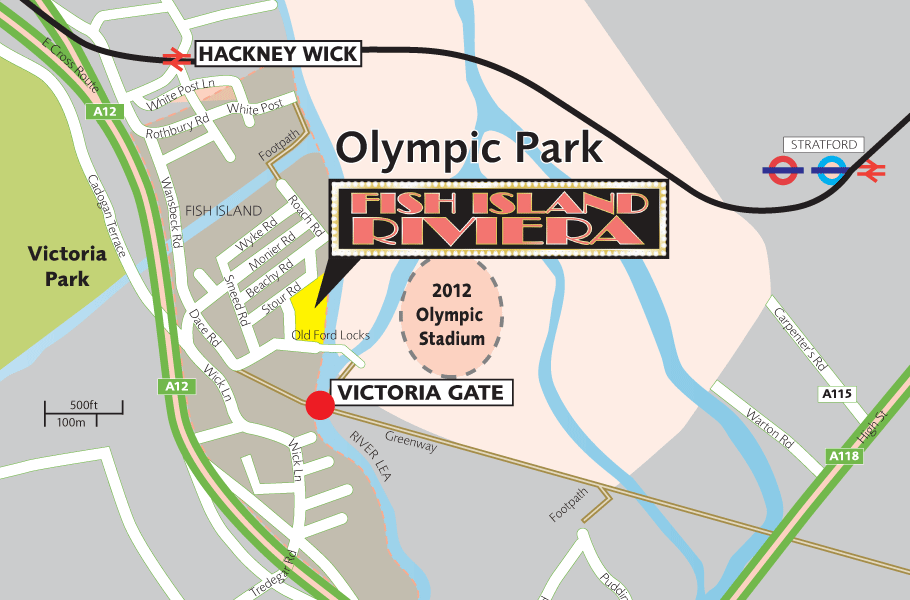 River

Privately run and dedicated river boats carrying up to 90 passengers each will run 24 hours a day to Forman's from Limehouse close to central London and Tottenham Hale to the north where there is parking for boat users only. The journey from either will be no longer than 40 minutes with a fabulous view and no risk of train of traffic delays. A shuttle boat will also run between Forman's and the Northern Entrance. Please note boat ticket holders will have access to a special fast-track lane at the Victoria Gate.

To book tickets and exclusive charters for the Water Chariots boat service – click here. Please book as soon as possible to avoid disappointment, there is limited capacity. The boats will operate 24 hours around the clock and are operated by injured British ex-servicemen.

Approximate Boat Transfer Times
• Limehouse to Formans and the Western Gate - 30 minutes.
• Tottenham to Formans - 50 minutes.
• Forman's to the Northern Entrance - 20 minutes.
The service is 24 hours a day.
Rail

Hackney Wick is a 7 minute walk from Forman's and has excellent connections to the whole of London via the newly improved London Overground network. It is one stop to Stratford station with its Eurostar terminal and connections to mainline stations. The main entrance to the Olympic Park is also at Stratford.

Bow Road tube is a 15 minute walk from Forman's Fish Island and being on the District Line means it does not connect to Stratford, so if you wish to leave by tube, you know you will be able to get on a carriage, as the ones leaving Stratford might just be full.
Road

There will be no road transport within the park and there is no car or coach drop off at the Stratford entrance for hospitality within the park.
For VIP guests requiring road car access we are the prime venue. We have a coach or car drop off outside our door, local parking and are on the West side of the park so closer to central London. There will be taxis operating 24 hours to and from Forman's.
All day parking can be secured for our clients at £100 per day.
Air

City Airport is located 6 miles from Forman's for scheduled and private jet arrivals. London Luton, Stanstead, Gatwick, Heathrow and Cambridge airports are within easy reach. Tottenham helicopter dropoff is 40 minutes away by river.